Switching from Torrents to Usenets - The Why and How
Everyone knows about Torrents. There's just about any kind of file that are shared in a P2P manner. Torrents only work because of the generosity of people donating their computing and networking resources by seeding (uploading) content for others to download.
As you probably know (if you've found this article) there exists something called the Usenet. Usenets can be used to achieve the same things torrents do, but with a number of benefits!
I discovered Usenets a few months ago while surfing the web and decided to give them a go. I found Usenets to provide a much better means to downloading media content. I haven't since  looked back at torrents.
This article is a beginner friendly guide to using Usenets. I'll be covering what Usenets are, weighing the pros and cons of torrents vs Usenets and why/how I switched from using torrents to Usenet. I'll be using Newshosting, NZBGeek and NZBGet to download content.
Overview
Torrents
Before we go into Usenets, let's cover what we know about torrents - how people use them and the pros/cons they have.
Usage Flow
Here's how the average torrent user would download content:
Browse your favourite torrent indexer and look for your desired content
Either download or get the magnet URL (a URL pointing to where the torrent file lives) for a torrent file
Open the torrent file or enter the magnet URL into your torrent client
Wait for the download to complete
Enjoy the downloaded content
Seed your downloaded content so others in the network can download it too (optional)
Pros and Cons
I've constructed a table of my views of the pros and cons of torrents below. Please note, these are only my opinions:
| | |
| --- | --- |
| + | Torrenting is free. It doesn't require any paid subscriptions to any services for you to download your content! |
| + | Setup and configuration to use Torrents is simple and can be automated! |
| + | Torrents are well known method of downloading content. More people know about torrents and have a basic understanding of how they work already. |
| - | Torrents rely on seeders. Low amount of seeders will result in slow download speeds. |
| - | Seeding is usually required while/before downloading |
| - | Torrents can have malicious or low quality files. Although, this largely depends on the indexers you use and I've personally found this to be very rare if you ignore all .exe files |
VPN

If you're using torrents, I recommend using a VPN to keep your torrenting activity private. My voice of VPN is PrivadoVPN. I've found it to be cheaper than other VPN services and hasn't slowed down my torrent downloads at all. They provide a free option (10GB free every month) which you can try out here:
Usenets
The Usenet has a lot of history behind it. In summary, it was originally designed as a bulletin-board service. Usenet eventually became a popular place to store and sort any kind of file. An organisation called Newzbin created the NZB file which pointed to where files existed on the Usenet. A whole ecosystem around Usenet and the NZB file then grew until it became what it is today.
Usenets are different to torrents in that files are stored on centralised servers.  downloaded from centralised servers (your Usenet provider), as opposed to from other multiple other "peers" like you do in Torrents.
Usage flow
You log onto your Usenet indexer service and search for the files you wish to download
You obtain the NZB (.nzb) file associated with the content. The NZB file is equivalent to the .torrent file.
You open the NZB file in your Usenet downloader
The Usenet downloader communicates with the provider to access the file(s) associated with the NZB
The file is downloaded
As you can see, the flow of using Usenets are very similar to torrents! I'd say the main difference is that you get faster, higher quality downloads from Usenets, but at a price.
Pros and Cons
| | |
| --- | --- |
| + | Usenets providers provide unlimited download speeds. You are only limited by your network |
| + | Most Usenets providers have SSL ports so no one can snoop on what you are downloading and your IP address is kept private |
| + | Usenet providers, indexers and downloaders all have a large amount of support, documentation and automation functionality available as well as having large, active communities supporting them |
| + | Don't have to seed (upload) before/while downloading |
| - | To use Usenets, you need a subscription to a Usenet provider and indxer service. These subscription costs money |
| - | Usenets are a less popular, unfamiliar, unknown alternative to torrenting. There may be some apprehension in using Usenets for these reasons (new things can be scary) |
Services
Before we start, we'll need to choose and configure three services:
Usenet indexer (paid)
Usenet provider (paid)
Usenet downloader (free)
Usenet Indexer
A Usenet indexer can be thought of as the torrent equivalent of a torrent indexer! These services provide a web interface or a programmatic means to search for NZB files (via API). For this article, we'll be focusing on the web interface way to find NZB files.
A Usenet indexer works similar to how search engines work. They scour the Usenet and use metadata available in the NZB's header to catalogue and organise files it discovers.
Using a Usenet indexer is not mandatory. Some Usenet providers give you a "Newsreader" or their own web interface to search files. Although, I find with some services that it can be tricky to navigate and find the content you're looking for. I recommend using an indexer, as they're highly specialised and are designed to making your search for content easier!
Usenet Providers
A Usenet provider is the most important service that we need. It provides servers that fetch the files from the Usenet and serves them to us.
When looking at choosing a provider, we should be aware of four main things:
Download speeds - The maximum download speed that their servers will provide you. Please note, this is a maximum, not a minimum value, so expect to see speeds below this "maximum" amount.
Download limits - This is the amount of data that you can download from your provider per month.
Retention periods - This is the number of days that the provider will keep a file after it's posted. The higher this retention period is, the more access to older files you'll have.
Connections - At first, you may not think this applies to you, but it does! As previously mentioned, a file stored on the Usenet is split into multiple parts. Your download client will attempt to download these file parts concurrently. The higher the amount of connections, the higher the amount of files you can download at any single time.
With these points in mind, let's choose a provider!
Recommended Providers

Newshosting is my personal choice and what I'll be using for the article. Newshosting is one of the most popular Usenet providers out there (and for good reasons). They have been in the game since 1999, have super long retention period (4299 days!), an easy to use web interface, unlimited downloads and uncapped speeds.
On certain Newshosting plans, a zero-log VPN service called PrivadoVPN comes for free. I've been using PrivadoVPN and have found the speeds, available regions  and VPN desktop app to be top notch.
I'm using the special discounted Newhosting $12.95 USD $8.33 USD monthly subscription plan - exclusive to this article!
If you're only looking to give Usenets a go, I highly recommend using Newshosting's free 30GB 14 day trial.
Two other providers I've used before and would recommend are:
Recommended Indexers
NZBGeek (Harvey's Pick)

My personal choice, I chose NZBGeek because it was on sale for Black Friday as well as having good reviews and a good reputation for quality indexes. It's made searching for content easy and has most of what I'm looking for.
If you're not looking to use a dedicated Usenet indexer, I recommend using Easynews which comes with an inbuilt indexer (web search only).
Other indexers I would recommend looking at are:
Usenet Download Client
A Usenet download client is an application that takes an NZB file and works with your Usenet provider to download the files onto your computer.
There are two main contenders in the Usenet downloader space. Sabnzbd and NZBGet. Both have a large community, lots of features and lots of support. You can't go wrong choosing either.
I personally went with NZBGet and will be using it for this article.
Using the services
Obtaining Provider Credentials
Once you have signed up with your Usenet provider of choice, you'll either be e-mailed, or have the credentials available on their web portal. These credentials are necessary to start downloading content and are:
Server Address
Port
Username
Password
As previously mentioned, I'm using Newshosting. Your Username and Password are what you used to sign up to Newshosting. Server Address and Port can be found on their support page: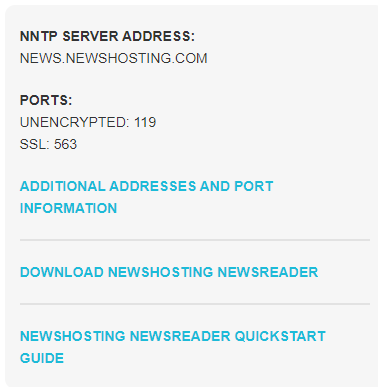 Configuring Usenet Download Client
Once you have downloaded and installed NZBGet, open it! It will open in your browser at the address: 127.0.0.1:6789. Bookmark this page and tag it as NZBGet.
Once NZBGet is opened, navigate to Settings:

Navigate to Paths and update the MainDir and DestDir fields to where you want NZBGet to download your content to:

Then navigate to News-Servers: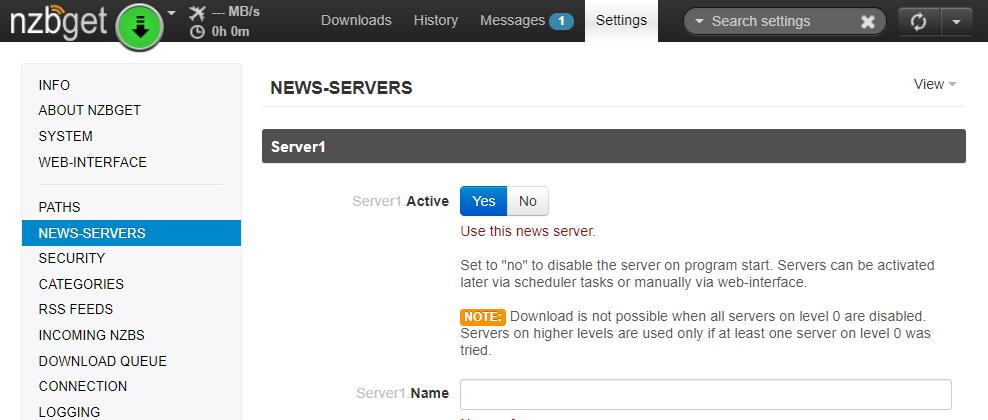 You'll need to change the following values:
Name - any name you want to use to identify this server e.g. Newhosting
Host - the Server Address we obtained earlier e.g.
Port - the port we obtained earlier. Usually it's 119 for unencrypted and 563 for SSL (encrypted). I highly recommend using 563.
Username - username we use to log into our Provider service.
Password - password we use to log into our Provider service.
Encryption - switch to No if the port value is 119 or Yes if the port value is 563.
Connections - enter the maximum amount of connections supported by your provider. My Newshosting subscription had a max of 60!
Scroll down and click TestConnection to make sure we've configured everything correctly. If it succeeds, click Save all changes at the bottom left of the screen: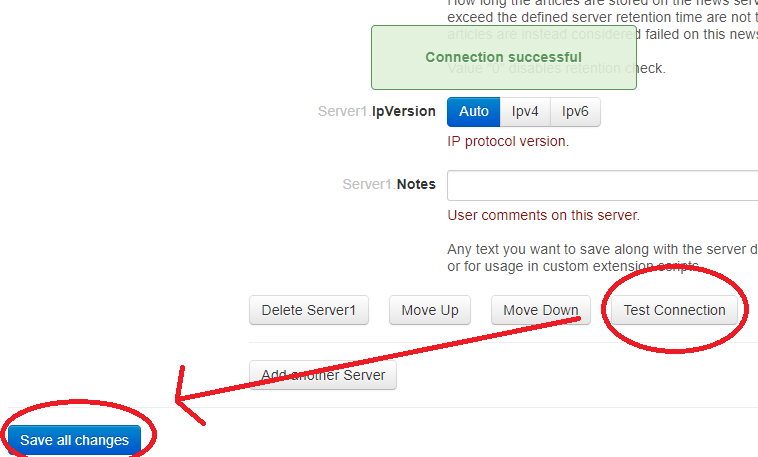 You'll then need to reload NZBGet: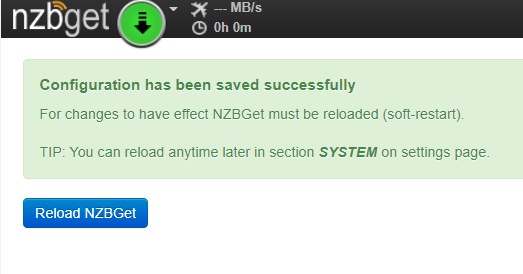 NZBGet supports having multiple providers. So if you decide to add another one, you can simply click Add another Server and repeat the steps.
Using Usenet Indexer
Log into your indexer, and then search for your desired content:

Click on the search result that you think will have the closest match to what you're looking for:

Inside, you need to find the "Download" icon which looks like a cloud. There's two different ways of obtaining the NZB file you need:
Download the NZB file onto your computer
Copy the URL to where the NZB file lives
I prefer going with option 2, but it's up to you!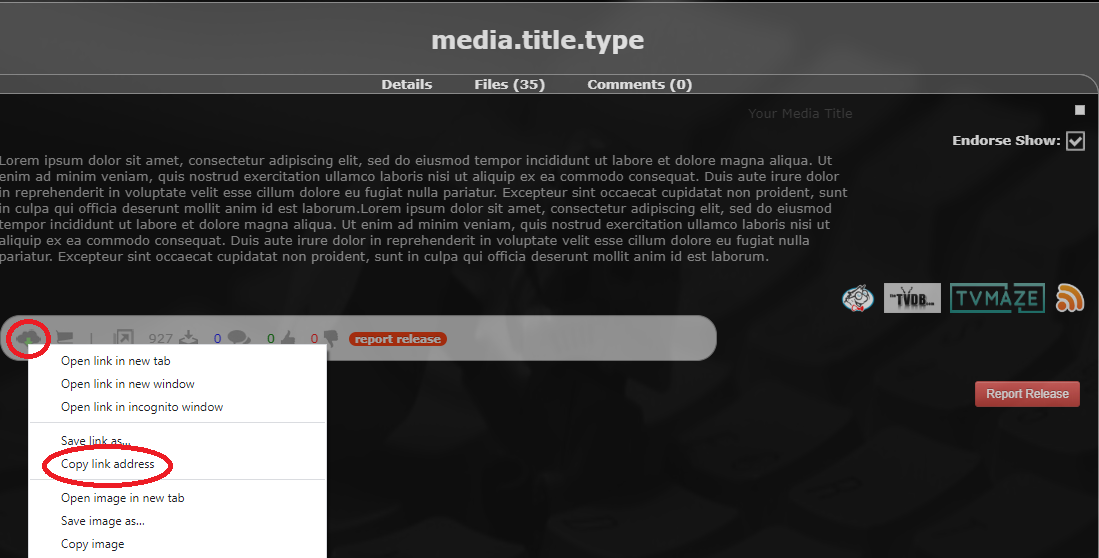 Downloading Content
Now with your NZB file, or URL to NZB file, open up NZBGet and go to the Downloads tab. Click + Add in the top left:

In the popup:
If you have the NZB URL, paste it into Add from URL.
If you have the file, upload it Add local files.
Then click Submit.
NZBGet will do it's thing by communicating with your Usenet provider and start the download!

Once the download has complete, navigate to where we setup NZB to save our downloads to and we should see our fresh content there!

That's it! Hopefully the whole process wasn't as daunting as you originally thought. As previously mentioned, I don't mind paying the subscription to gain access to a more reliable, faster, secure way of downloading media content!
Automating your Usenet setup
If you find that performing your Usenet downloads manually is becoming a hassle, read the next article in the series to help automated your media downloading workflow: https://blog.harveydelaney.com/configuring-your-usenet-provider-and-indexer-with-sonarr-radarr/