Choosing a Usenet Provider - a Beginner's Guide
I've recently started to use Usenets over torrents for downloading content. Read about my Usenet articles below:
One thing I spent the most time on in my Usenet setup was the research into what Usenet provider to use. I found that it is most important service that you will choose within your Usenet setup. Usenet providers often have paid subscription plans. Whenever I pay for a service (especially a subscription purchase) I want to make sure that I choose the best provider and plan that meets my needs.
This article will guide you through what I think the most important things to consider are when choosing a Usenet provider. I recommend you consult other articles to make sure what I've said here aligns with my recommendations here!
I've identified a number of "core" features/offerings that are the most important things to consider when choosing a Usenet provider. I'll also cover "nice to have" features/offerings which are some unessential that Usenet providers bundle within their plans to sweeten the deal.
Core  
Download speeds
Download limits
Number of connections
Binary retention duration
Available server regions
Pricing and subscriptions
Nice to haves
Trial periods
Customer support
SSL
VPN
Newsreaders / Search / Browser
Core
Download Limits
The most important aspect to consider for a provider. This is the amount of data that you're able to download per month. Usenet providers will usually advertise this amount clearly. The amounts are usually specified in GB/month. Some select (more expensive) plans will offer unlimited download limits.
Try to select a plan that will closely meet your download amount needs (and you can save money!).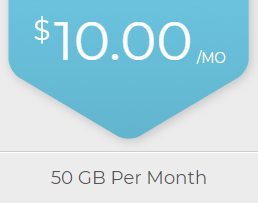 Download Speeds
This is the maximum download speed that their servers will provide you. Please note, this is a maximum, not a minimum amount, so expect to see speeds below this "maximum" amount.
I find this to be the most important point due to what Usenet providers are used for. I don't think anyone has ever said that their download speeds were too fast and requested for them to be slower. Since Usenets provider are used by people to download content, people want to download their content quick!
Make sure you're choosing a provider that meets your download speed needs.
Number of Connections
At first, you may not think this applies to you, but it does! This is NOT the number of simultaneous downloads that can occur, but the number of Usenet file downloads that can happen in parallel.
A file stored on the Usenet is split into multiple parts. Your download client will attempt to download these file parts concurrently. The higher the amount of connections, the higher the amount of files you can download at any single time. This is important for downloading files and even more important for downloading multiple files at the same time.
This has a direct impact on your download speeds. To help visualise this, I've experimented with downloading a single file using a maximum of 1 connection, 15 connections and 30 connections using my download client (NZBGet):

Connections (1)
Using 1 connection, I was only able to reach speeds of ~1.3mbps:

Connections (15)
Using 15 connections, I was able to reach speeds of ~5 MBPS:

Connections (30)
Using 30 connections, I was able to reach speeds of ~5.6 MBPS (max of my ISP):

Please note, the above will vary based on the content you're downloading in addition to your network speeds, it's just a little guide :).
Binary Retention Duration
A "binary" is a fancy word for a non-text file. This includes images, videos, executables etc. Once a file is uploaded to the Usenet network, a Usenet provider will attempt to store that file on their servers for a set amount of time (usually specified as days).
The higher this retention period is, the more likely you'll find older content. I've found that the upper bound of what's offered is ~4300 days. This means you if you join a Provider that offers that retention period, they will likely have files uploaded to the Usenet around 11.5 years ago.  
So, if you know that you're only going to be downloading recently released content, you could save money by choosing a provider that has a shorter retention period. However, if you're a power user, I highly recommend not skimping on this aspect.
I've experienced using a provider which had an advertised 1100 day retention and a provider with a 4300 day retention. My experience with the 1100 day retetion provider was quite poor (and I almost stopped using Usenet because of it). Most content I tried to download, I would run into failures. The failures were encountered because some "blocks" that made up a file were missing. This is likely due to the fact the retention period was on the lower end: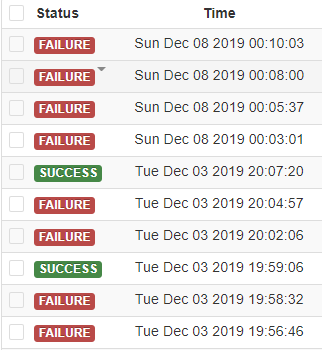 Once I switched to the 4300 day retention provider, my experience drastically improved. Most, if not all, of my content downloaded successfully the first time. For this reason, I recommend not cheaping out on a provider with a high retention rate and save yourself some sanity :).
Available Server Regions
This is a point that often is overlooked, yet still important. Most people understand that the closer you are geographically to a server, the faster your latency and download speeds will be. This is also the case for Usenet providers - you want to be a close as possible to their servers.
A Usenet provider will have servers in a set number of regions. I've found that most Usenet providers don't clearly advertise what server regions they have available. But you'll find that most have US and EU servers.
You'll often have to dig through their support documentation to find out what servers are available, for example, I found the available regions (US, EU, NL, DE) for Newshosting here: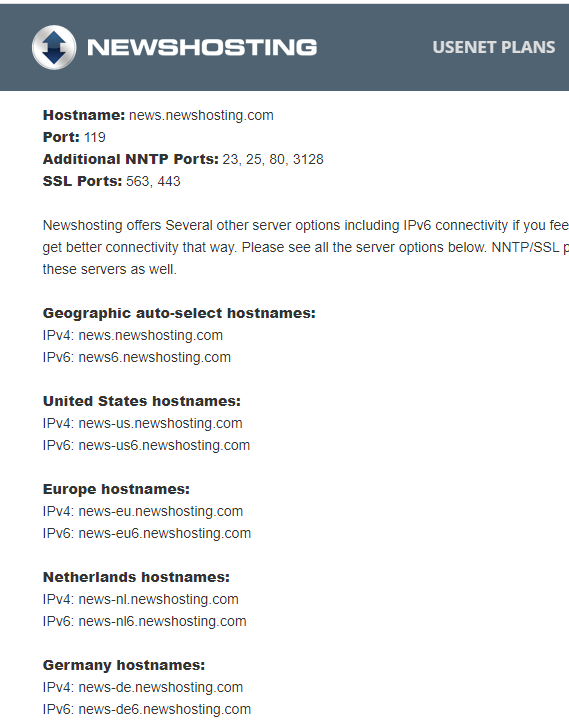 Pricing and Plans
All of the above points are variable based on how much you're willing to pay! The more expensive a plan, the better your Usenet experience will be.
There are two different ways that you can gain access to a Usenet provider's services:
Subscription
Block amounts
Subscription models are the most common way to gain access to a Usenet provider. You'll pay a set amount per month to gain access to the service. You can also pay for a year of monthly payments upfront which will reduce the amount you pay per month.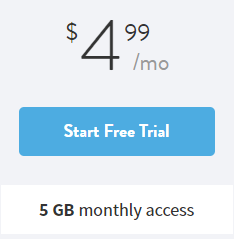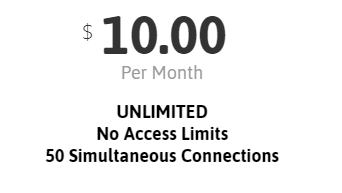 Block amounts are plans that offer a fixed amount of storage for a one time payment. These plans allow you to use a Usenet provider's service up until you have downloaded the agreed upon "block" amount. I would be wary of the expiration of these blocks, make sure they don't expire earlier than you expect.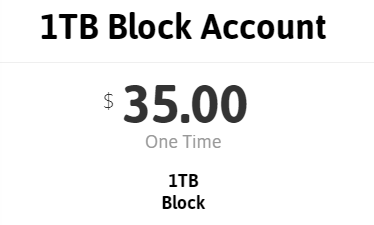 Block amount plans are ideal for people new to Usenet. Whereas subscription plans are better for power users as they usually have unlimited downloads and amounts.
Nice to haves
There is a lot of competition in the Usenet provider space. Each provider can compete on the core offerings (that we covered previously), but it's become increasingly difficult to compete on price/core offerings alone (they have to pay for server and storage costs somehow!). So, to help convince people to use their service, providers offer additional benefits to help new customers choose their service over other providers.
Trial Periods
Most of the Usenet provider services are confident enough in their services to offer a free trial to all new customers. I highly recommend using these trials to see if the provider meets your needs.
These free trials will often have a set amount of days and download amounts (in GB) that you can use the service for before the trial ends. You will have to provide your credit card information for the trial. I recommend being conscious of these numbers if you don't want to accidentally get charged when you weren't ready to commit to a plan.
SSL (Security)
I was considering categorising this under "core" offerings, but it's become so common now that I've moved it here. Double check that the provider you're signing up with provides downloads over SSL. This allows you to download your content over an encrypted connection - so no one can spy on what you're downloading! If the provider doesn't offer SSL, I recommend not using them.
You can usually identify this by seeing if they provide SSL Ports on their support page:

VPN (Virtual Private Network)
A number of Usenet provider's monthly subscription plans come with VPN services bundled. This can be super handy for you if you have currently have a VPN, but if you do, then there's less incentive to sign up with that provider.
These VPN services are usually not as good as standalone services, but they are still nice to have if you don't have one already.
Newsreaders / Usenet Search / Browsers
Some Usenet providers also grant you access to their own Usenet searching software. Sometimes they call them "Newsreaders", browsers, search or something similar. I like to think of these  as a form of Usenet indexer (think Google, but for Usenet, but not as good). These searching tools simply allow you to browse the files within the Usenet.
I have found these bundled indexers to be quite poor. They don't accurately find what I'm looking for and always return unrelated results. However, they can be a good introduction into Usenets. It can be an easy way to start downloading Usenet content immediately. Since they're bundled for free within certain plans, there's no harm in giving them a try.
My personal recommendation here is that you find an independent Usenet indexing service. These services are specialised in organising, categorising and searching Usenet content. They also provide an API which allows you to automate your Usenet download setup (essential for me).
Customer support
I've found that I have not needed to use customer support with any Usenet provider before. I would recommend looking at the provider's support page in addition to understanding if there's any live customer support provided. This may prove useful if you're new to using Usenets.
Although, I think most help and resources relating to Usenets that you will need can be found on the world wide web ;).
Conclusion
That's it! That's all the points that I considered when selecting a Usenet provider. In summary, find a Usenet provider that most accurately meets your core needs. But also don't forget to consider if the nice to haves are... nice to have!